Convincing someone to buy something requires special skill. You need to think of good reasons why the person should purchase the item, and then present those reasons persuasively. Pick out a three-dimensional object, such as a work of sculpture, furniture, or decorative art.
Look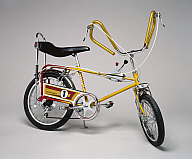 What makes this work so wonderful? What do you like best about it? How is different from other, similar types of objects? Who do you think might have owned it? What does the artwork label tell you about it?
Write
Convince someone to buy this work. It isn't for sale, but let's pretend. Describe the object so that it seems like the most fantastic thing you've ever seen. It's okay to exaggerate a little for this activity. Use all your persuasive tricks!
Share
Read your description out loud to your partner or the group. Do they think you've made your case? Did you win them over?