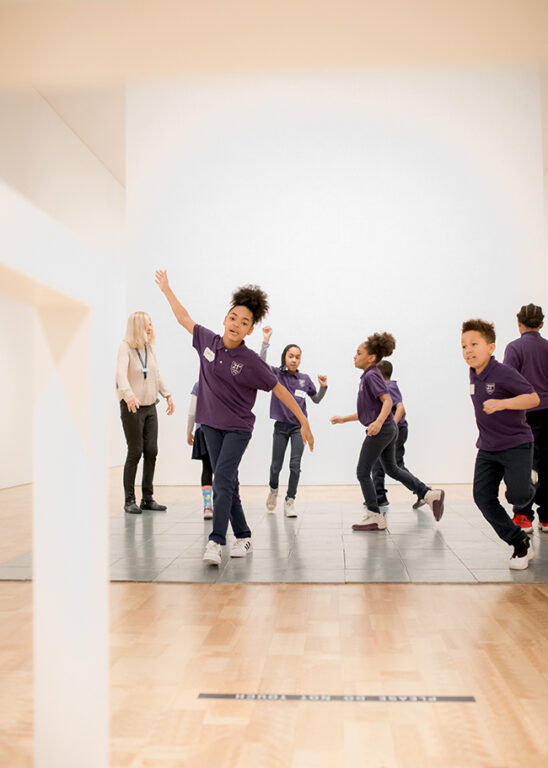 We look forward to welcoming you and your students to the Museum. Here are some tips to make the most of your visit.
Advocate for your Visit
Letter to the Principal (PDF). Give your principal a letter from Marcelle Polednik, director of the Milwaukee Art Museum. This ready-to-print document is a great tool for advocating trip to the Museum to your administration.
State Standards (PDF). All of our programs meet many Wisconsin Model Academic Standards as well as Common Core State Standards for English Language Arts.
Chaperone Guide (PDF). Please distribute our handy set of reminders for the chaperones on your field trip.
Request a Tour
Request your tour by calling the Tour Scheduler at 414-224-3842 or register online.
Order buses/transportation early. Special contract pricing is available through First Student. Find out more information here.
Tell us about any special needs when you request your tour. The Museum is wheelchair accessible. Assistive listening technology or an ASL interpreter for people with hearing impairments is available when requested in advance.
Plan the length of your visit. You have the option of self-guiding the Museum (without a docent) after your docent-guided tour. Just let the Tour Scheduler know if you plan to stay longer.
Before Your Tour
Confirm your headcount with the Tour Scheduler two weeks before your tour. Please Note: No changes in headcount or program/tour will be accepted after the two-week deadline. The Museum cannot offer a refund if your headcount decreases after your payment has been made, and cannot accept payment at the door.
Prepare students for your trip by watching the Museum Manners video.
Prepare chaperones. You will need one chaperone per 12 students; those chaperones are admitted free. (You will be charged $14 per additional adult.) Make sure they know the Chaperone Responsibilities–or have them watch the Museum Manners video.
Organize student groups: 12 students and one chaperone per group. Each student and adult will need a nametag; this acts as their admission into the galleries.
What to Bring
Nametags: Each student and adult in your group must wear a nametag that you supply. These act as your admission into the Museum.
Clipboards/pencils (optional): If you would like to have your class write or draw, please bring your own clipboards, pencils, paper, or sketchbooks. Remember only pencils are allowed in the galleries to protect the artwork.
What NOT to Bring
Backpacks are not allowed in the galleries. Side worn purse and small bags are acceptable.
Food, Drink and Gum are also not allowed in the galleries. Please dispose of these items before arriving.
The Museum does not have lunch facilities. The adjoining War Memorial Center has agreed to welcome School Groups (pending availability) to utilize their spaces. Please call the Education Coordinator at 414-273-5533 option 8 for availability and reservations.
When You Arrive
Enter the Museum's School Group Entrance, to the north of the Main Entrance on N. Art Museum Drive, unless otherwise directed by the Tour Scheduler. Please remain on the bus until greeted by Museum staff.
Buses can park on N. Art Museum Drive (first come, first serve) or may park along Lincoln Memorial Drive, in Veterans Park, and at other public locations.
Be on time; arrive no more than 15 minutes early. Note that if you are late, your tour will be shortened. If you are more than 20 minutes late, your tour will become a self-guided tour. If you are delayed, please call the Tour Scheduler at 414-224-3842 or the Milwaukee Art Museum receptionist at 414-224-3290.