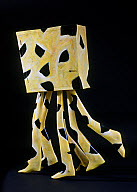 Do you ever wonder what goes on at a museum after all the visitors leave and the lights are turned off? What do you think happens when no one is watching?
Locate a gallery with three-dimensional objects, such as sculpture, furniture or decorative arts.
Look
Choose an object that piques your curiosity. Walk around it. Notice all its individual parts. View the piece from up close and then from farther away. What other objects do you see nearby?
Write
Imagine you have become the artwork. Report what you do when the museum closes at night. Complete the prompts listed below:
When the museum closes, I …
Sometimes I play tricks on the security guard by …
Sometimes I talk to (another object in the room), and we talk about …
If I were not here, I would be …
When I dance, I like to listen to …
Share
Read your completed sentences to the group and have them guess which object you were pretending to be.