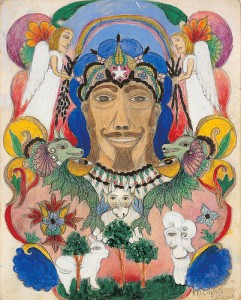 Explain the concept of symmetry to your students, and introduce the artist Minnie Evans. Evans was an artist who was deeply interested in symmetry: her work often centers around one human face, surrounded by plants, animals, and fantasy creatures. Her pieces were often spiritually inspired.
Have your students think about symmetry in terms of language arts. How can they make a piece of writing, either poetry or prose (choose based on the level of your class), symmetrical, like the work by Minnie Evans? For example, a poem might have a set number of words in each line, or a piece of prose might alternate points of view, beginning with one, the middle being another, and the end returning to the first.
Extension: In Evans's work, the picture is not always exactly symmetrical. What components are those? Why do students think Evans might have chosen to do this? Talk together about how putting something asymmetrical in a symmetrical work can make the asymmetry stand out more. What is the importance of those asymmetrical parts? Have your students include something in their writing that is not symmetrical—a word or phrase if it's poetry, a section if it is a longer prose work. They should have a reason for making that part stand out more.