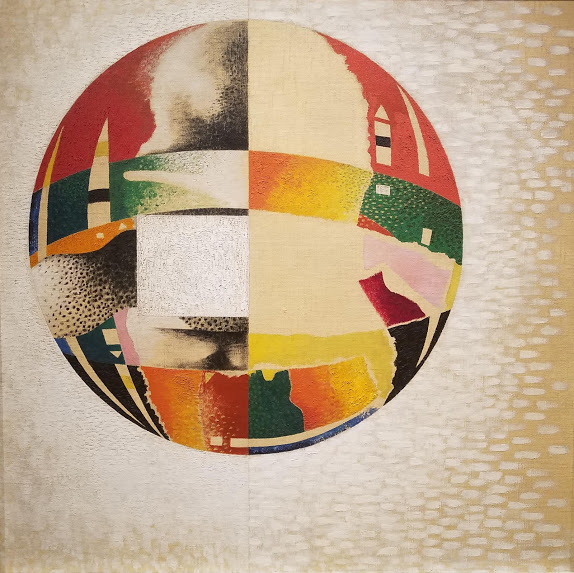 Objective
Students will experiment with techniques for mark-making and creating textures with paint inspired by the style of László Moholy-Nagy and the Bauhaus.
Materials
Sturdy paper, cardboard, canvas board or burlap as a painting surface, paint (either tempera or acrylic), a variety of paintbrushes, paint smocks/shirts

Optional: toothpicks, paper clips, compass or other items to scrape away paint
Introduce
László Moholy-Nagy was born to a Jewish family in Hungary in 1895. His artistic talent and curiosity continued to develop during an uncertain childhood. He documented his life experiences, which included war, with drawings, watercolors and writing. His unique approach to art education supported the mission of the Bauhaus art school which was devoted to uniting fine art with functional craft and design for the betterment of humanity. Maholy-Nagy was noted for his "relentless experimentalism" because of his pioneering work in painting, drawing, photography, collage, sculpture, film, theater, and writing. Though most well known for his work in photography, Moholy-Nagy understood the importance of art as research and experimentation, which guided his teaching philosophy and belief that "everybody is talented."

Show students this painting by Moholy-Nagy.

You may want to show a few examples of Moholy-Nagy's paintings to help students find similarities and understand stylistic characteristics in his work. Or explore this artwork in the 360° virtual tour The Bauhaus, László Moholy-Nagy, and Milwaukee.
Ask
What kinds of shapes do you notice in this artwork?
How would you describe the color in the artwork?
What kinds of marks or textures do you notice?
Do you think these works of art could be experiments? Why or why not?
How is creating art similar to experimenting?
Activity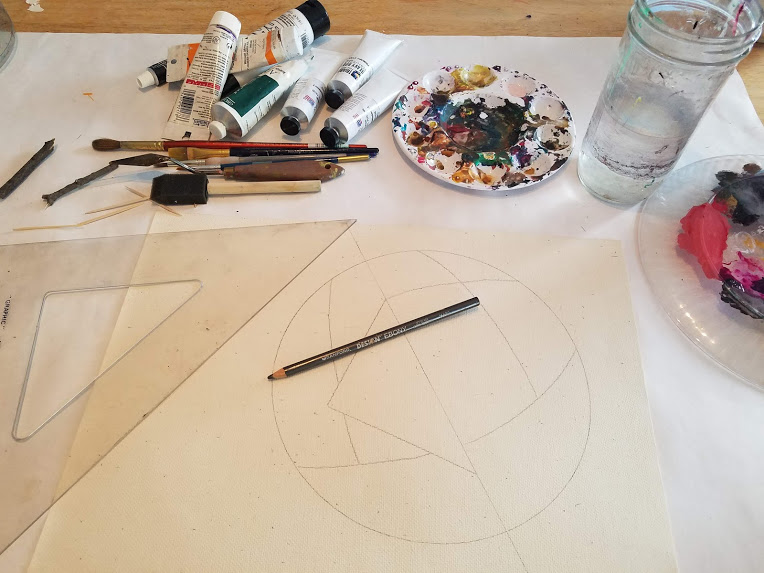 Decide on a large geometric shape to be the focal point on the paper, not necessarily in the center. This shape can be made by tracing an object or using a ruler.
Using simple lines, divide the main shape into smaller parts, but nothing too small, as each section will be painted in.
Extend one of the lines outside of the shape to divide the paper or board into two main parts.
Set out a variety of paint brushes and painting tools as well as a variety of paint colors including black and white. Students can also bring in items or tools to paint with and add to the variety of their marks. (You may want to limit the colors to primaries plus black and white to encourage experimentation.)
Allow students to experiment with the different marks each painting tool can make. Each section of the composition should be filled in a new way. (use the handle of the brush, try a palette knife, scrape some paint away to leave a texture, etc.)
Encourage students to explain, in small groups, techniques they tried in their composition. Perhaps they can use ideas from peers to expand the ways they are making marks in their work.
Students can use one color for their backgrounds and perhaps keep the direction of the mark the same in both sections, but use two different tools, much like that of the Moholy-Nagy inspiration painting.
Ask students to title their work. They may want input from peers to do this. Then decide together how work will be displayed. Ask students to decide how artworks could be grouped together for display.