Grades 4-6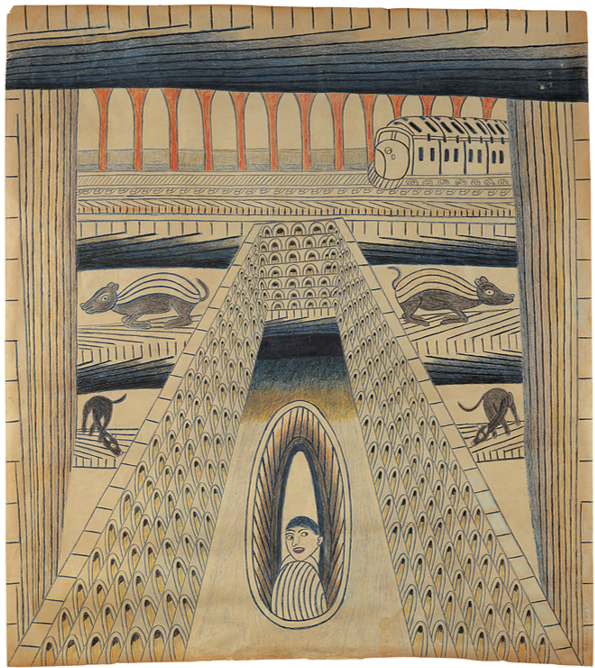 Objective:
Students will explore personal symbols and use concentric lines to plan a composition inspired by self-taught artist Martín Ramírez.
Materials: 
Paper of your choice, newsprint, found paper, paper bag, etc.

Pencils and erasers

Scrap paper or sketchbook for planning and practice

Optional: oil pastels, chalk pastels or crayons (limit the colors)
Introduce:
The life of Martín Ramírez is full of mystery and misunderstanding. New research on his life is changing the narrative that has been told and retold for the last 50 years. Martin Ramirez was a Mexican artist that migrated to the United States in 1925, searching for work with railroad construction companies. He was a husband with four children who remained with his wife in Jalisco, Mexico. It was in the margins of letters to his family that he began his first drawings. Ramirez struggled with mental health, perhaps increased by culture shock and a language barrier, but his unique drawing style is full of self-expression. He used concentric lines to create frames or stages for his personalized symbols of people, animals, trains, and churches. He spent the remainder of his life institutionalized in California, where he found scraps of paper, pencils, and crayons to continue drawing until a doctor of psychology advocated for access to art materials as a form of therapy. For more on his biography, check here: https://mam.org/ramirez/bio.htm.
Show students images of Martín Ramírez's artwork, giving them time to look more closely or look for clues about what the artist wanted to express. Suggested artworks from the Milwaukee Art Museum: 
Untitled (Landscape with Train, Church, and Animals)
Ask:
What story or message do you see in the artwork of

Martín Ramírez

?

What kinds of symbols do you see in this artwork?

Why do you think the artist repeated so many lines in his artwork?

What kind of animals, people, or places would you use as a symbol for yourself?
---
Activity:
Choose an animal, person or place as a personal symbol to feature in your artwork. Your symbol should represent you or an important memory.

Create at least three thumbnails or practice sketches of your personal symbol by drawing a rectangle and sketching your symbol in the middle. Next create a frame or stage around your symbol by drawing a series of concentric lines and shapes to fill the rest of the rectangular space. Consider if your symbol fits better vertically or horizontally.

Choose your favorite thumbnail sketch and transfer your idea to larger paper with pencil first, taking your time to add in details and refine your composition.

Trace your pencil outlines with ink, marker, or oil pastel in a dark color like black, blue, or brown.

Decide if you want to add other colors or shading. Keep your color palette limited to 2-3 colors for the concentric line frame. A few additional colors could be added to the symbol if desired. (

Limited colors can be added with your choice of media such as crayon, chalk or oil pastels, colored pencils, pens or charcoal.)

Students can write an artist statement on an index card that includes a title or "untitled" heading, their name, and a brief explanation of the symbol they chose and how it represents them.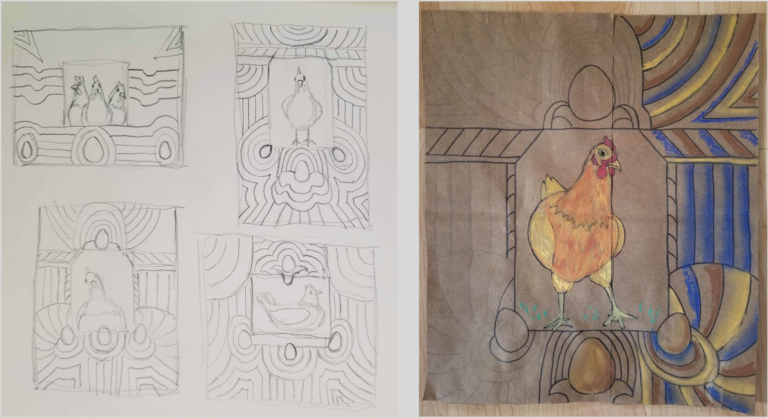 ---
National Standards:
VA:Cr1.1.4a-Brainstorm multiple approaches to a creative art or design problem. (thumbnail sketches)
VA:Cr3.1.5a-Create artist statements using art vocabulary to describe personal choices in artmaking (index card art labels)
VA:Re.7.2.6a-Analyze ways that visual components and cultural associations suggested by images influence ideas, emotions, and actions.
VA:Cn11.1.4a-Through observation, infer information about time, place, and culture in which a work of art was created.
---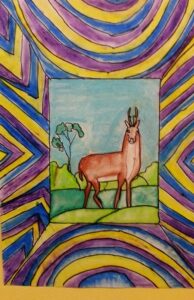 Share your artwork with us on social media @milwaukeeart #MAMLearn or email pictures to teachers.mam.org. We'd love to see your creations!