For additional resources, see the Kohl's Art Generation Online Lab & Gallery guide.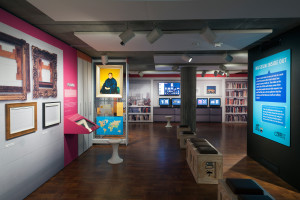 Explore what happens behind the scenes at the Museum!
Have you ever wondered what's on the backside of a painting—or even under the paint? Have you ever wanted to see what a work might look like in a different frame? Did you know that the Museum's artworks travel (to places all over the world!)? Have you ever wanted to put together your own exhibition?
In this section, Museum Inside Out, you can view videos about the many different jobs at the Milwaukee Art Museum. And the activities throughout let you experience a bit of what it's like to be a conservator, curator, designer, educator, framer, or registrar.